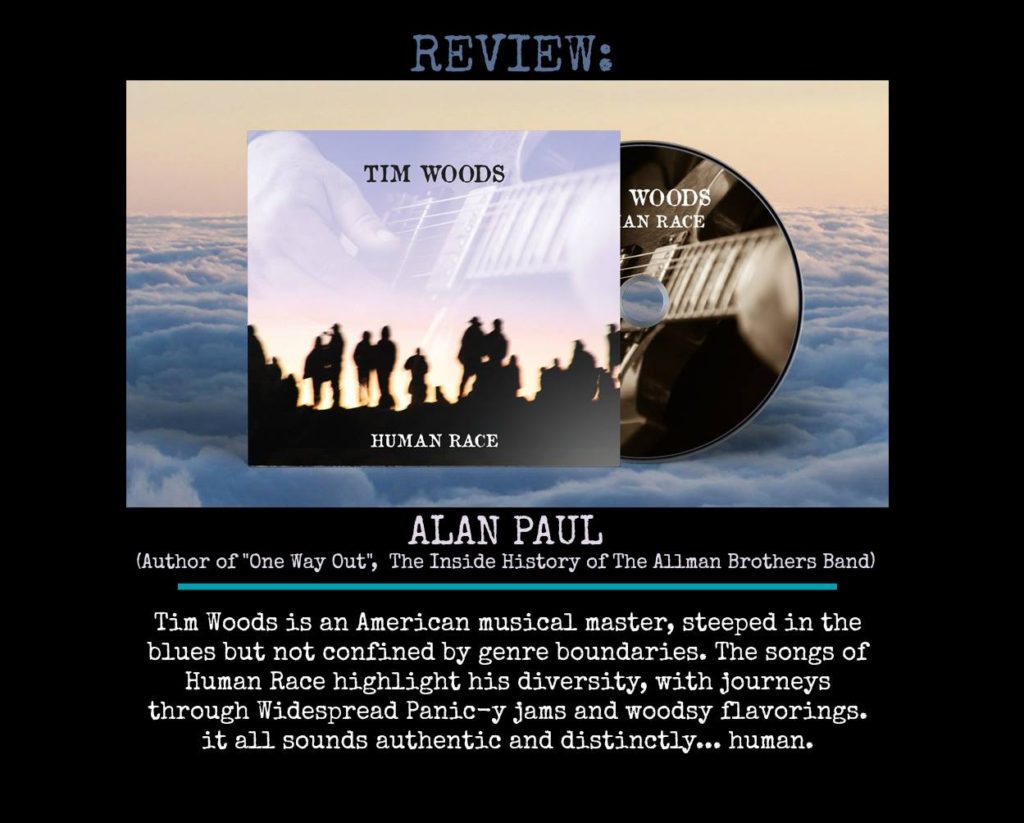 The Blues Sessions - CD Reviews
Review by Michael G. Nastos
Tim Woods has been languishing in relative obscurity in the blues realm, but this recording should change all of that. During the course of his career, he has built a strong resume playing with big names, and it's assumable most of them were recruited for these studio sessions, done in Chicago, Atlanta, Savannah, and Clarksdale, MS. Each track features at least one or more heavyweights, supporting but not dominating the rough-edged, untamed voice, and pithy, slightly dirty guitar of Woods. There are traditional numbers, familiar songs from Willie Dixon, a few from David "Honeyboy" Edwards, who appears with Woods, classic urban Chicago blues, and an original. Edwards in particular is a force on this project, singing his heart out on "Drop Down Mama" with Woods and harmonicist Eric Noden, or slow and sure for two other tracks. Classic blues tunes like "Spoonful," "Built for Comfort," and "It Don't Make Sense," penned by Dixon, are lovingly re-crafted, but also Howlin' Wolf's "Who's Been Talkin'" with Woods, keyboardist Allen Batts, Big Jack Johnson, and Terry "Big T" Williams is the ultimate jam for these standout figures. John Primer and Bob Stroger play prominent roles elsewhere, especially on yet another Dixon evergreen, "Do the Do." Every track is precious, every measure full of fun, as Woods shapes these immortal icons of blues into a unified whole that is much greater than the sum of their parts, inspired and loaded with integrity.
---
San Diego Blues review
---
BC Blog critics
Tim Woods has been picking and playing the blues throughout his more than 25-year career but rather than rush to release an immature approximation of the music he loves, he opted to wait 'til the time was right. The Blues Sessions, his debut disc, is the result of a six-month odyssey, with Woods travelling to Clarksdale, Atlanta, and Chicago, seeking the aid of some of his heroes in his quest for authenticity. The results are impressive indeed. Woods has enlisted some genuine heavyweights, including David 'Honeyboy' Edwards, one of the last surviving originators of the Delta blues. Also on hand are the likes of guitarists John Primer and Big Jack Johnson, bassist Bob Stroger, drummer Kenny 'Beedy Eyes' Smith, and Michael Frank, the man behind Earwig Music, on harmonica. And that's just the beginning – in total there are some sixteen participants along for Wood's musical ride. So there's a great deal of living history involved in The Blues Sessions. Fortunately, Woods has his own ideas, and what could have been yet another dry and dusty tribute is instead a lively and vital collection that respects the music's origins and originators while adding distinct touches that help carry tradition forward. True, Woods is only responsible for one composition here – "World Comes Tumblin' Down," the slithery boogie that closes the disc. But while some covers stick closely to tradition – notably the three Honeyboy Edwards songs, acoustic affairs with Edwards himself handling the vocals – elsewhere there are elements of Woods' jam-band background to add a somewhat more modern edge. Take Willie Dixon's "It Don't Make Sense You Can't Make Peace" - with its spacey violin (courtesy of Joe Craven) and crunching beat that veers off into psychedelic territory, it's an arrangement that might well have baffled the composer. And yet it works, as does Wood's somewhat jazzy rendition of Dixon's "Spoonful," here an acoustic romp featuring Woods' and Eric Noden's guitars, with Smith adding understated percussion. Dixon the songwriter is well represented here, with Woods tackling "Do The Do" and "Built For Comfort" as well. Other highlights include a romp through Big Jack Johnson's "Clarksdale Boogie," with Johnson himself trading licks with Woods, and Edwards' "Wind Howlin' Blues," a tune last recorded in 1942. Woods is a fine guitarist, and the friends on board all live and breathe this music, so instrumental performances throughout are uniformly first-rate. And Woods is an eminently adequate vocalist, though there are occasional moments when he comes across as a bit more earnest than accomplished. (But then who could hold a candle to the quiet dignity Edwards brings to his two righteously ragged vocal performances?). And Woods' respect for the music and his energetic approach more than make up for any minor quibbles. A fine and spirited outing that balances sincerity with musical exuberance, this one's a winner. Here's hoping we'll be hearing much more from Tim Woods!
---
post-gazette.com/blue notes
I want to start getting back to some new CDs I got recently from Earwig Records, a fine little blues label run My Michael Frank, harp player, manger of Honeyboy Edwards and Burgh native. First up is one by Tim Woods, "The Blues Sessions." Woods is from Irwin (yes, our Irwin), and I'm not sure how I've missed seeing this fine picker and singer of great old blues, but I have. My loss. But at least now I have this very enjoyable CD. It's called "Blues Sessions" because it was put together in a series of studio sessions in Chicago, Atlanta, Savannah and Clarksdale, Miss., and more importantly, because it draws on some really great old blues music. Woods has put together an amazing set of tracks featuring some classic and some not-so-classic blues, in which displays serious guitar chops (he plays and picks with his thumb, allowing him to play lead and rhythm), and a nice gritty voice for the music he's selected. It's not enough that Woods sounds like he found Chicago and the Delta somewhere in the depths of Irwin, but he's surrounded here by musicians who bring a powerful blues history to the music. Let's start with David "Honeyboy Edwards, who shares guitar and vocal duties with Woods on several cuts, including Honeyboy's classic "Bad Whiskey & Cocaine." Then add the excellent piano of Allan Batts and Aaron Moore, fine guitar from Big Jack Johnson, John Primer, Bobby Lee Rodgers and Eric Noden, plus Lee Williams and Kenny Smith on drums, Michael Frank on harp -- and plus many other musicians who turn this project of Woods into a mini-old-time blues festival. This is Woods' first CD, and he deserves a lot of credit as a co-producer for putting together such an excellent package. There are mini-bios of the contributing artists, session photos and a little of Woods' personal history and his effort on this album. -- all the trappings that you might not exprect to find on a first effort. And then there's the big deal -- the music. Woods hasn't created anything brand new here, but he takes classic blues as a starting point and brings us a very fine set of great old blues as seen through his own passion and instinctual feel for the music. Here are just some of the tracks he's chosen: "Deep Ellum Blues," "Do the Do," "Castle Rock Boogie," "Spoonful," "Clarksdale Boogie," and "Wind Howlin' Blues." Here's a sample of Woods on "Deep Ellum Blues." All this got started, Tim says, when he first saw an article about Edwards and decided to look further. He said that Ernie Hawkins told him that Honeyboy was in Chicago, and that Michael Frank was his manager. Woods said that he called Frank, they hit on their Burgh connection, and it all flowed from that. The CD represents not only good music, but Woods personal journey into the blues. A nice story.
---
Blues blast magazine
Tim Woods has 25 years of experience in the blues. A session in June 2005 with David "Honey Boy" Edwards, Homesick James, Sam Lay and Pinetop Perkins inspired Tim to the point of recording with these greats. "The Blues Sessions" was hence recorded over a six-month period in studios in Clarksdale, Atlanta and Chicago. Featured on the CD alphabetically are: Allen Batts, Joe Craven, David "Honey Boy" Edwards, Michael Frank, Shannon Hoover, Big Jack Johnson, Aaron Moore, Eric Noden, John Primer, Bobby Lee Rodgers, Jeff Sipe, Kenny "Beedy Eyes" Smith, Ike Stubblefield, Bob Stroger, Lee Williams and Terry "Big T" Williams. Four Willie Dixon cuts, three Honey Boy Edwards tracks, and one each from Howlin' Wolf, Roosevelt Sykes, Big Jack Johnson, himself and an un-authored traditional number comprise the dozen tracks presented here. Woods opens with "Deep Ellum Blues", a beautiful acoustic piece with Noden and Smith supporting him. Folks my age will recognize it as an old folk song covered by the Dead. The interplay of Woods and Noden is a great start to a disc full of Tim's great work and the blues greats surrounding him. Dixon's songs like "Do the Do" get great covers here. Primer and Woods guitar work on the this is quite nice while Woods and Big Jack Johnson bend notes together on songs like "Built for Comfort". Woods and Honey Boy sing and play together on "Bad Whiskey and Cocaine", "Wind Howlin' Blues" and "Drop Down Mama", giving us traditional Delta blues done up like they used to be. The Dixon covers are updated a bit except "Spoonful" where he goes acoustic and traditional sounding; another well done effort with Noden and Smith showing less can be more. This is a nice mix, and he finishes up with an uncredited but apparently original track with some cool organ work by Stubblefield and jumping rock-a-billy guitar work by he and Rogers. A dozen tracks of tight and well done studio tracks showcasing Woods' two and a half decades of experience and his ability to blend and mix it up with some other talented folks who enjoy playing together and also do it quite well! His acoustic and electric guitar are equally well done and his vocals are all spot on and bluesy. If you like traditional blues from the Delta and Chicago, this album will warm both your heart and your ears quite well! Reviewer Steve Jones is secretary of the Crossroads Blues Society in Rockford. IL.
---
Blues art studio/ Austria
For over twenty five years Tim has been playing music in one form or another, whether it was with his good friend George Frayne (Commander Cody) or opening for artists such as; Sonny Landreth and Donna Godcheaux (The Grateful Dead). Although, now he resides in Irwin, Pennsylvania; At the age of eighteen Tim moved with his family to Macon, Georgia, not long after settling there he gained a job as a club promoter which enabled him to meet a wide variety of musicians and singers and during his time in Macon and his subsequent further travels into the south he gained a greater understanding of the music and the people that played it. In June two thousand and five he was fortunate enough to meet David "Honeyboy" Edwards; Homesick James, Sam Lay and Pine top Perkins and after spending a musical evening with these living legends a friendship was born and Tim was inspired enough to seek out the right locations, the right time and most importantly the right players to create a lasting tribute to all those great players that have gone before him. Between the years two thousand and two and two thousand and nine Tim played in the Mountain Jam Band but, after the break up of the band due to the unfortunate death of a band member Tim became able to follow his dream. So, after six months of travelling on the road; recording in Atlanta, Chicago, Clarksdale and Savannah. Tim; vocals and guitar, has with David "Honeyboy" Edwards; vocals and guitar, Allen Batts and Aaron Moore; piano, Joe Craven; violin, Michael Frank; harmonica, Big Jack Johnson; Eric Noden; John Primer and Bobby Lee Rodgers; guitars, Bob Stroger; Terry "Big-T" Williams and Shannon Hoover; bass, Ike Stubblefield; Hammond B3, Jeff Sipe; Kenny "Beedy Eyes" Smith and Lee Williams; drums, Created together with these fine musicians a stunningly crisp and fresh collection of old classics, such as the grippingly fast moving footapper "Spoonful" and the slowburning, almost remorseful "Bad Whiskey and Cocaine," to irresistibly grooving instrumentals as "Howlin Wind Blues" and "Clarksdale boogie." In fact all twelve of these classic and not so classic numbers have been revitalised and re-invigorated by Tim; not for a new hip audience but because they deserve a 'dusting off ' and with a fresh approach we can again enjoy them for the fine, fine songs they in fact are. Recorded by, artists that have an appreciation and understanding of the music's longevity. Thoroughly enjoyable! Brian Harman.
---
Blues Bytes and Satellite times/ spain
This is the debut album for a very talented musician – so talented, in fact, that he has attracted a host of guest musicians to his project. How about Dave Honeyboy Edwards, Big Jack Johnson, John Primer, & Bob Stroger, to name but a few? The album was recorded during a six month tour of studios in Clarksdale, Atlanta and Chicago, and it includes one track – "Wind Howling Blues" – that has, apparently, not been recorded since 1942. The album is dedicated to the musicians that Woods respects and musicians who have influenced him, and so all twelve tracks on the albums are covers – this is no criticism of what is a fine CD. In fact, it's much more than just fine, it is an excellent album. The CD opens with an old traditional blues (one I hadn't heard before) called "Deep Ellum Blues" performed by a trio of Tim Woods on vocals and acoustic guitar, with Eric Noden on second acoustic guitar and Kenny Smith on drums – I knew I was going to like this CD within 30 seconds of this track starting. A Willy Dixon track follows, "Do The Do" – electric guitar this time, with John Primer providing second guitar and Aaron Moore on piano. Bob Stroger and Kenny Smith are on bass and drums respectively. This is one of the best versions of this particular track that I've heard. "Castle Rock Boogie" keeps the tempo going, with a bit of fun thrown in from Aaron Moore on piano again, and there's another boogie a little later, the "Clarksdale Boogie" which is even better! It has Alan Bates on keyboards, Big Jack Johnson on guitar (he wrote it), and the rhythm section of Terry Big T Williams on bass and Lee Williams on drums. In between there's a fantastic version of Willy Dixon's "Spoonful" (a trio of two guitars and drums) and a Honeyboy Edwards track "Bad Whiskey & Cocaine". Honeyboy takes the vocals on his own song "Wind Howling Blues", and he makes it very special indeed, with Tim Woods, Eric Noden and Kenny Smith backing him up. Honeyboy takes vocals later on another of his songs, "Drop Down Mama" with Woods & Noden on guitar and harmonica – lovely stuff! There's also excellent versions of Willy Dixon's "Built For Comfort" and "It Don't Make Sense You Can't Make Peace", Howling Wolf's "Who's Been Talking", before the album winds up with a very up tempo jazzy blues "World Comes Tumbling Down". This is definitely one of the best CDs that I've reviewed this year so far! Terry Clear
---
Nashville blues society
Tim Woods has been a staple of the southwestern Pennsylvania blues scene, playing guitar for more than 25 years. Also, as a young man working in Macon, GA, as a club promoter, he booked and worked closely with a number of national acts, thus forging lifelong friendships with many of the biggest names in the blues. Those friendships are the listeners' reward as Tim joines forces with many of these titans to create "The Blues Sessions," for Earwig Records. It was recorded in Atlanta, Chicago, and Clarksdale, with well-known names in attendance throughout. The set consists of twelve choice covers that span the early days of the Delta masters up through the postwar, amplified era. Of particular note, and one that can be easily heard upon first listen, is Tim's unique playing style, where he plays and picks with his thumb, allowing him to play both lead and rhythm. He kicks things off with an acoustic offering of the traditional "Deep Ellum Blues," which also featuures Willie Smith's son, Kenny "Beedy Eyes" Smith, on drums. Pianist Aaron Moore and another Muddy alumnus, guitarist John Primer, spice up the Howlin' Wolf chestnut, "Do The Do." Big Jack Johnson joins Tim and adds a hill country touch to "Built For Comfort," and the classic tale of a man who lost his lover and admits himself to be "the causin' of it all," "Who's Been Talkin." Organ from Ike Stubblefield, violin from Joe Craven, and guitar from Bobby Lee Rodgers give a psychedelic feel to "It Don't Make Sense You Can't Make Peace," and the set-closing "World Come Tumblin' Down." And now, for our favorites. Big Jack and Tim once again trade red-hot licks on a "can you top this" instrumental entitled "Clarksdale Boogie." And, the venerable David "Honeyboy" Edwards takes lead vocal and guitar on "Bad Whiskey & Cocaine," then duets with Tim on one of his own songs that has not been recorded since 1942, "Wind Howlin' Blues." Earwig founder Michael Frank adds the perfect touch of harp to these cuts, adding to their authenticity from one of the last living links to the legendary Delta greats. For Tim Woods, this set was a labor of love, with a touch of inspiration, dedication, and a little luck mixed in to pull it all together. "The Blues Sessions" is a sweet ride from the South up to Chicago, from a brilliant guitarist! Until next time....Sheryl and Don Crow.
---
Soundgarden/Croatia
This album, The Blues Sessions was recorded in Chicago, Atlanta and Clarksdaleu recorded by the guitarist and musician Tim Woods and published by the Earwig Music Company 18th May 2010. year. To me this album came thanks to the kindness Betsie Brown of the promoter of the house Raccoon Blind. Tim Woods certainly is not an anonymous, in fact he is a musician, a guitarist who plays guitar for more than 25 years. For this inaugural album The Blues Sessions The team decided to collect more than superb team of musicians who are in one way or another contributed significantly to this album is impressive ambience to the songs in the song that complete feeling grows more and more becoming a part of us themselves. Tim Woods has decided to select some of the most famous blues songs with carefully chosen musicians decided to record this album. Here's what the team says: "My love and respect of the great music called the 'blues' has been depened by my experiences. Blessed with good fortune of meeting and playing with the musicians on this album, I'm more humbled and inspired than ever. The Blues will forever be cemented in my heart and soul. " Here's who these musicians: Allen Batts-piano (worked with Freddie Robinson, Freddie King, Major Lance, Harold Burrageom, Eddyjem Clearwater and Albert Collins); Joe Craven-violin and percussion (worked with David Grisman Quintet, Stephane Grappelli, Jerry Garica and TomWaitsom); David 'Honeyboy' Edwards - Guitar & vocals - a living blues legend, the owner of numerous and various awards and blues owner of two Grammy Awards; Michael Frank - harmonica, producer and owner of Earwig Music Company (working with David 'Honeyboy' Edwards since 1973. And later he became manager. Harmonica played on albums by Louisiana Red and Les Copelenda what you read on this site). Michael in 2008. received the prestigious Keeping The Blues Alive Awards for Artist Menagment. Shannon Hoover-bass (radio Fourchestra Jonathan Scales, Bobby Lee Rodgers and Jeff Sipe) Big Jack Johnson - guitar Aaron Moore - piano legend boogie - woogie piano style. Eric Noden - guitar, harmonica, vocals (performed in Croatia) John Primer - guitar (played with Willie Dixon, Muddy Waters, Magic Slim and The Teardrops his.) Bobby Lee Rodgers - Guitar Jeff Sipe - drums (played with Phil Lesh & Friends and Jimmy Herring) Kenny 'Beedy Eyes' Smith - drums (son of the legendary Willie 'Big Eyes' Smith played with Pinetop Perkins, Homesick James, Billy Boy Arfnoldom, Henry Townsend, Jr. Wells, and Jimmy Rodgers) Bob Stroger - bass (legendary bluezer, played with Otis Ruch, Jimmy Rodgers, Sunnyland Slim, Pinetop Perkins and Willie 'Big Eyes' Smith Ike Strubblefield - Hammond B3 played with BBKing, Eric Clapton, Rod Stewart, George Benson, Jim Capaldi, Quincy Jones, Jerry Garcia and Marvin Gaye Lee Williams - drums (playing them anymore since 30 years) Terry 'Big T' Williams - bass guitar is one of the 'young and new' snage.Glavni mentor was his legendary blues teacher Johnnie Billington. But only on this information, we can conclude that it is extremely stable quality album, full of exquisite blues tones and luxurious atmosphere. Certainly here I want to point out the following songs: Do the do, Castle Rock Boogie, Bad Whiskey & Cocaine (plays and sings devedesetpetogodišnji David'Honeyboy 'Edwards), Spoonful, Clarksdale Boogie (not taken from the back 1942nd year), Wind Howlin' Blues , expressive It Do not Make Sense You Can not Make Peace, and Built for Comfort and Who's Been Talkin '. What is certainly worth mentioning is that every song on the way a little jewel that one by one to make an amazing low composed of the gems that will for a long, long time light to time many coming blues musicians. In 57 minutes and 56 seconds listening to the best recordings of different approaches to certain blues standards, which in one way or show why these musicians are so simple, relaxed and full of will and desire to bring us all together this incredible 'blues mojo. Finally here is an exceptional musicians, the blues legends who are in a relaxed atmosphere and humor to capture a true masterpiece - a work. RECOMMENDATION: The Blues Sessions album is just that, incredible and permanent 'jamming' Tim Woods and great musician, true blues master. They are important factors of this brilliant album which together easily exchanged and complement its undeniable and powerful blues feelling and atmosphere. Their experience, musical sensitivity and virtuosity significantly contributed to the album sounds so that sounds, full sound, plenty of blue notes and shiny Bluish Nebula, which we first arose in the heavens, and then you go down around the legs and then you simply encircle and take. I do not think, but just listen and enjoy! More about everything you can learn to: Timwoods.com Blindraccoon.com
---
Western pa blues society newsletter
Make no mistake about it; this is a blues record! Tim Woods went on a personal journey and discovered the deep satisfaction of meeting and recording with some of America's best living purveyors of the genre. He writes in the liner notes that, "When I began this project, I had no idea what I would end up with…." What Woods has captured is a blues record that is not about recreating or writing original songs so much as it is all about reinterpreting some of the classics, with a heavy emphasis on the songwriting of Willie Dixon, particularly those recorded by Howlin' Wolf. Where Woods scores big, is on his interpretation of these classics as he breathes new life into the compositions and includes a variety of respected pros such as Honeyboy Edwards, John Primer, Bob Stroger, and Big Jack Johnson, to name a few. Michael Frank's Earwig label can be satisfied and proud in that Woods took the time, and had the foresight to seek out these artists and create these inspiring interpretations of fresh new versions of the songs. The guitar playing is clean and crisp throughout. The songs include full ensembles as well as the acoustic gems of the Honeyboy Edwards driven tracks, of which there are three. These alone are worth the price of admission as Woods trades guitar and vocals with Honeyboy in a sympathetic and respectful manner backed by the accompaniment of Franks and Eric Noden on the Mississippi saxophone. Woods brings a fresh read to these timeless songs that any blues lover would relish. After a successful CD Release show at Memphis' Rum Boogie Cafe, Woods is back in Irwin, PA where you can find him at timwoodsmusic.com. ~ Jimmy Adler
---
Midwest record
TIM WOODS/The Blues Sessions: A white boy with the blues that has an affection for Willie Dixon comes with a sound that would have been at home on the roots music portion of the Andy Griffith Show. Rollicking, easy and sneaking peaks at the underlying fire within, Woods knows his way around a blues studio and a blues festival and he delivers just what you'd want to find at the roadhouse at the edge of a college town in the Midwest where kids that know how to boogie still like to kick out the jams well into the weekend night. Fun stuff. by Chris Spector
---
Folk and Acoustic music exchange
Right from the start, it's more than obvious that Tim Woods loves playing the blues. There's such an exuberance and joy here that one is almost taken aback: should anyone that deeply into such a purposely depressing style be so damn happy about it? Well, yes, and that's what puts a unique stamp on him. Combining a snappy sense of tempo with a folk looseness and just the right amount of knowing blues slop, this human bear rocks, trots, swings, and boogies all the way through The Blues Sessions. Recruiting 16 savvy musicians—some well-known (Honeyboy Edwards, Ike Stubblefield, etc.), some not, but all very good—Woods put together a project he'd sweated over for years, and the result is rather glorious. The engineers were careful to preserve a neighborhood tavern element in the recording, and each cut sounds live (probably was! but sans audience) and richly atmospheric, not neoprene and glossy. In each song, everyone lets his hair down and gets to business, setting up driving rhythms and solid solos. Then there are the backporch numbers like Edwards' Bad Whiskey & Cocaine, raw as an oyster dug straight from the sand and steaming with swamp balm, Honeyboy himself singing and playing while Michael Frank provides a wailing harp just before Woods ducks in on secondary vocals, keeping perfect resonance. There are a lot of classics here: Spoonful, Who's Been Talkin', and one of my all-time faves: Willie Dixon's Do the Do. All are rendered with the gusto and guts associated with the 60s and 70s marriage of Chicago and dirty white boy blues styles. The jams, especially the instrumental Clarksdale Boogie, are pure heaven. Woods knows his stuff through and through and toured with Sonny Landreth, Donna Godchaux, Commander Cody, and others. It's that last name I see as most appropriate, as there's a fundamental swing to Woods' music that finds a warm kindredness with the Commander's work, though Woods is a good deal more downright drenched in out and out blues, while the good Commander is more the Asleep at the Wheel type. by Mark S. Tucker
---
Blues underground network/ Canada
Simply The Blues, Done Simply, was perhaps all it was meant to be and with Tim Woods release, "The Blues Sessions", we now understand, more than ever, just what that means and what that sounds like. When you try to be to fancy to make a point, that is when you may of just missed the point. Tim Woods, I believe, has always known that and has worked long and hard over his now 25+ years blues journey to offer more authenticity to his sound, then theatrics. One of the ways Woods' achieves this authenticity is simply by the way he plays his guitar and that is by way of also picking with his thumb which of course, like the greats of the past, allows one to play both lead and rhythm. You might say that "The Blues Sessions" was an Album 25 years in the making and you may just be right, especially considering that this is, after all, Woods' Debut Release and what a release it is, considering many of today's Blues Legends were more than willing to be guest artists. In fact their were at least 16 Artists more than willing to join Woods' on his amazing 6 month journey thru Clarksdale, Atlanta, and Chicago and all accomplished via recording the Album in no less than 4 studios, along the way. Artists such as David 'Honeyboy' Edwards, Jack Johnson, John Primer, and Kenny 'Beedy Eyes' Smith to name just a few, make the odyssey that is "The Blues Sessions", as special and unique as any Blues Artists could ask for. "The Blues Sessions" consists of 12 Tracks and offers us a Dream Team Mix Of The Blues, with 11 Covers that stick pretty close to their Original Sound and 1 Original at the end, called, "World Comes Tumblin' Down", closing out the Album in fine Tim Woods style. "The Blues Sessions" is a Album that defines a moment when the blues was the blues and it also defines an artist, namely Tim Woods, whom not only understands the true blues, but he is also one whom is more than able to relay that magic to all of us. This Album shows us the uniqueness of an Artist whom is willing to wait for something really special before making a commitment to share it with his audience, and in doing so has created, I think, a little bit of a very enduring blues masterpiece. "The Blues Sessions" gets my 5***** Rating with absolutely no problem at all... This is an exceptional Album and a must have for any lover of Simply The Blues, Done Simply. Review By John Vermilyea (Blues Underground Network)
---
Jazz Quad/Russia
The debut album by American guitarist and singer Tim Woods could be called the research work of musicologist - folklorist, if he had not taken an active part in the recordings made by him in different parts of the U.S. Midwest and South. And the name of his project, he gave as a real scientist - the humble and completely accurate: "Blues session. In Chicago, Atlanta, Savannah and Clarksdale, Miss., Tim played the Chicago blues, boogie, blues of the Delta with the veterans living in the blues for thirty, forty or more years. The most colorful figure of his partners was undoubtedly Honeybee David Edwards, who made his first record in the far 1942 (!) Year. Repertoire Records - classics of the genre: songs of Willie Dixon, the same Haniboya, including his famous blues hit Bad Whiskey & Cocaine, as well as other veterans, Big Jack Johnson of Clarksdale with his signature Clarksdale Boogie. Only the final track, Tim put his own track World Comes Tumblin 'Down, perfectly blended into the program. Not surprisingly, since Tim Woods and myself playing the blues for 25 years. In the records of The Blues Sessions, he demonstrated his unusual technique of playing the guitar with his thumb, allowing him to simultaneously lead and solos, and rhythm. But particularly I would point out his vocals, just perfect for the blues. Place the microphone and the party solo guitar Woods conceded only three tracks - but not to anyone but himself Honeybee, solo in her own songs. In Bad Whiskey & Cocaine can be detected among musicians and a permanent manager Haniboya, but at the same time Earwig Records boss Michael Frank. Together with Frank Woods and produced this interesting project. I can not fail to note that in the booklet to the album, Tim took most of the space is to his colleagues at the sessions, thereby veterans, each of which he found warm and sincere words of respect. Very nice in all respects the draft - and really blues! Leonid AUSKERN
---
Deluxe music blog/ Brazil
Classic! This cd was not released and may well be on the list of great albums with names like Muddy Waters, Howling Wolf etc. Tim Woods has invited a team of jaw-dropping, but his guitar and voice that makes this work something really wonderful. Even when interpreting or Built For Comfort Spoonful Willie Dixon, Tim does it as if it were one of his originals. The compositions are very well excutadasdemaneiraque an unwary listener may think you are quietly faced with new material. Tim Woods has good technique and a remarkable voice. Guitarist certainly owes nothing to established names like Duane Allman, Eric Clapton or Peter Green. The Blues Sessions is sure the money well spent a pleasant hearing. by Deluxe music blog/Brazil
---
Downbeat Magazine
---